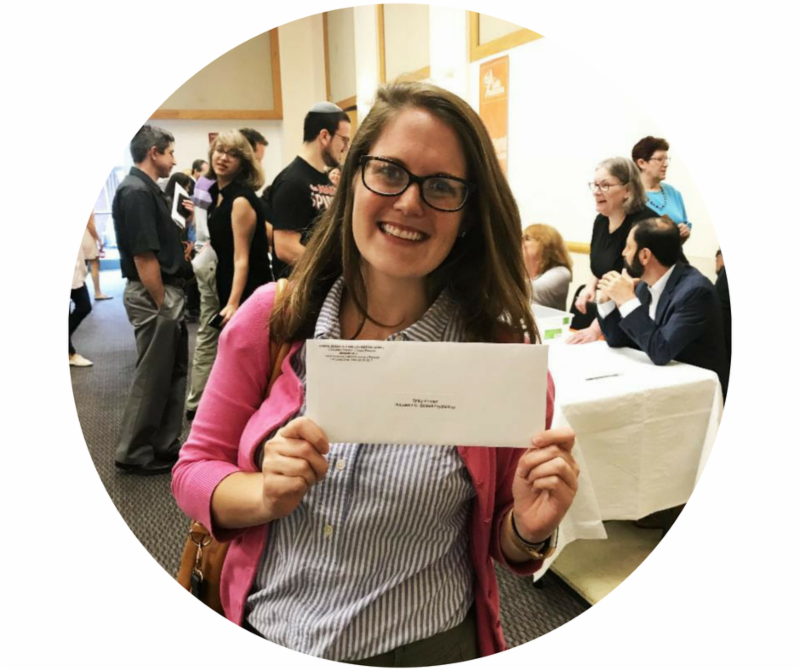 Emily Kenner is eager to begin her internship at Pine Richland School District in August. It's the final year of her Psy.D. in school psychology at Duquesne University, where she specialized in evaluation and intervention. 
On Monday
evening, July 23, Emily was one of nearly 200 students who received a financial aid check from Central Scholarship & Loan Referral Service (CSLRS) to help her finish her studies.
CSLRS is a program of the Jewish Federation of Greater Pittsburgh, administered by JFCS, which represents the assets of more than 
60 local endowments and family funds
, so that students only need to complete one application. More than $400,000 was distributed last week. Each year, members of the decision-making committee distribute checks to dozens of students and their proud parents. There's always a palpable "back to school" energy in the room.
Jonathan Berken and Nathaniel Blecher are both medical school students at the University of Pittsburgh who will be applying for their residencies this year. Nathaniel's specialty is ophthalmology. Jonathan is deciding between pediatrics, neurology – or pediatric neurology! Both said that fees for boards, applications and travel to interviews make the scholarship funds especially appreciated.
CSLRS is undergoing a website update and will have a new name: Jewish Scholarship Service of Greater Pittsburgh. It will remain a vital resource for Jewish students in southwestern Pennsylvania pursuing higher education and technical training. Applications for academic year 2019-2020 will open in November. Visit the CSLRS website for more information.
Photos: (top) Emily Kenner holding her scholarship check. (bottom) Randi Sigal, Co-Chair (with Kathy Klein) of the Central Scholarship Committee.